PHYSICIAN & CONSUMER FACT SHEETS
When the SHC website relaunched in 2014–there was an opportunity to redesign our most used marketing material: fact sheet.
SHC Marketing utilizes the fact sheets as handout material in-clinic, as well as Physician Dinners, Sponsorship events, etc. The templates are aimed at two different audiences:
Referring Physicians
Consumer (Prospective and/or Current)
The content is written with the target market in mind, including differing reading levels. During the redesign, the templates were refreshed to match the website (more white space), and the no-bleed/white border artwork has allowed for in-house printing capabilities.
PREVIOUS TEMPLATE DESIGN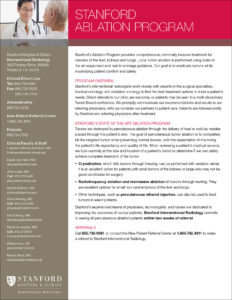 AUDIENCE
Referring Physician
Consumer (Prospective and/or Current)
RESULTS
Reduced printing timelines for short runs from 3-5days (digital printing) to 1day turnaround.
Reduced costs for digitally printed fact sheets from $1/sheet, to printing internally at .25cents. Savings of 75%!